Event We Like!
The event: Plymouth Pirate Weekend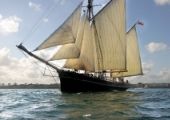 Date: 25th & 26th May
Location: Plymouth
http://www.visitplymouth.co.uk/events/pirate-weekend-p1365003
CHOSEN BY CLAIRE EASON-BASSETT, MANAGING DIRECTOR
I am looking forward to the Plymouth Pirate Weekend as it means seeing an old friend again – the beautiful classic boat, Bessie Ellen.
She is back in the South West and berthed at Plymouth Barbican for the Pirate Weekend offering an opportunity to haul ropes, climb rigging and discover your inner pirate! There's lots more too with all things pirate gathered together for the weekend offering a swashbuckling something for everyone.
There is nothing quite so wonderful as messing about on boats for all ages and, for me, this event marks the start of sailing season and I can't wait to get back on the water!